John met me at the airport at midnight after a long long long long 24 hours of airports and lines and flying and landing and more airports and more lines and more flying.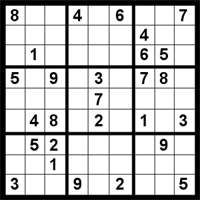 I was really lucky to get a flight out when I did, my scheduled flight was one of the first authorized to leave Barcelona in a few days. (Iceland's volcano!) So I had it pretty good, but it was very chaotic in all the airports. Many tired passengers, all the flights were bursting at the seam, security lines and check in lines were impossibly slow.
But - I discovered the game of Su-Doko - the numbers game - and it kept me occupied most of the flight home! (Seville-Barcelona-Newark-Denver-Boise) . I'd seen people playing it for years during flights and sort of scoffed. But it is really addicting!! The little Su-Doko game book I bought was from the airport in Barcelona, in Spanish, and I've been working my way through it, figuring out how to play it more efficiently with each game. The fellow next to me on the flight from Barcelona to Newark dove into his pile of Su-Doko games as soon as the plane took off and I (very surreptitiously) watched how he played, picking up a few tips. It's a great way to pass the time on a plane!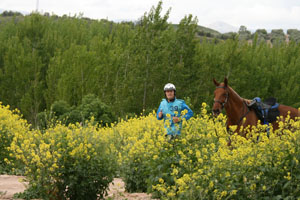 So now I'm home at last, and it is very very green and raining! I guess I'm the El Nino girl this year - following the extreme weather patterns around the world... Arizona and Andalucia have both had record winter and spring rains. And our little corner of Idaho desert is wetter and greener than I've ever seen it. But wow, I had the chance to experience TWO spring's - watching the Sonoran desert burst into incredible bloom, and also Andalucia - wildflowers galore. I haven't seen Oreana in the daylight yet (couldn't sleep more than a few hours last night - I think I've forgotten how to sleep a regular night's sleep - and I was dreaming in Spanish!). But I could see a lot of tall grass and flowers along the road and driveway - so now I'll get one more Springtime!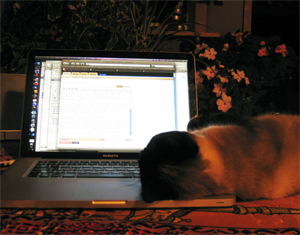 Now, with a cup of coffee, I'm sitting at the desk with Sam the Siam cat, enjoying the plants and blossoms from last years garden on the table near the desk (I bring them in before it freezes and Merri kept them faithfully watered all winter). Ready to summarize the Raid Kaliber Andalucia extravaganza. It is really an amazing event but on by extraordinary people. They know how to make things happen - are masters and improvization when things go astray - always always laughing and smiling and causing others to do the same. Spanish time... and my god these people know how to have fun.
The last night in Cazorla we had awards at the Juntamiento (city hall) with much fanfare, capped by Jose Manuel Soto singing the anthem of Andalucia. Then a big dinner, then dancing the night away! Dancing and singing (Soto would grab the microphone every once in a while and sing along with the DJ's picks). When he wasn't singing he was dancing with everybody else. Lots of free-form dance technique (YMCA, Gloria, I Will Survive...), lots of Spanish-Andalucian music which transformed some of the riders and staff into expressive Flamenco dancers - some of them were really good! It was so much fun, I finally dragged myself off to bed at 3:30am.
The birds are chirping noisily outside, the sky is lightening, Sam is purring with her head on my wrist. Good to be home!
Steph