The logistics of getting all of the 'Creek People' to a multiday ride can be challenging, but we managed to get it done, and it was a splendid ride! This is a new 3-day ride in a spectacular part of Idaho. Jessica (determined and inspired) and Mike (reluctant but willing) Cobbley did an amazing job of finding the most beautiful basecamp, and some very fine trails in the Caribou-Targhee National Forest. We had views of the Grand Tetons to the East, and numerous lesser mountain ranges to the north, south and west. It's high country, basecamp was at 6500 feet, and the stands of pine and fir intermingle with aspen groves, sagebrush hills and mountain meadows to create a very beautiful mosaic of greens. Absolutely gorgeous country.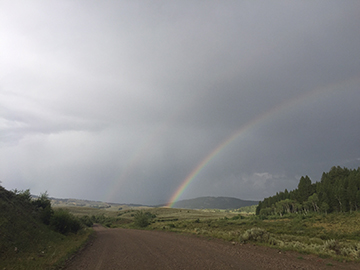 We had a 7 hour drive from Owyhee, east and north, and passed through dramatic showers and storms as we neared our destination. As we turned off the highway and drove ten miles down a dirt road the storms blew away and a double rainbow escorted us to camp. A good omen! Half of the Creek (Connie and Sarah Holloway and I) arrived a day early as we wanted to settle in and let the horses rest, hoping to ride all 3 days. We had a welcome chilly night (a break from the desert heat), a misty meadow morning from the previous rains, and a short ride to stretch the horses' legs. A lovely peaceful day.
The rest of the Creek (Carol, Merri, Regina) arrived that evening in Regina's trailer and we sorted out horses and pens and stuff. I will admit that I got cranky trying to keep up with sorting out feed, blankets, tack, pens, buddies, riding plans, and my increasingly agitated mare. The sight and sound of feed and buckets drives her crazy, this mare thinks food is the most important part of life, and she was getting hysterical with the other horses coming and going in different directions. I finally got my senses together and we had a 'session' - I'm the boss, remember? It always amazes me how well it works to assert myself, and after that she was fine. And I was better too after a little whining session.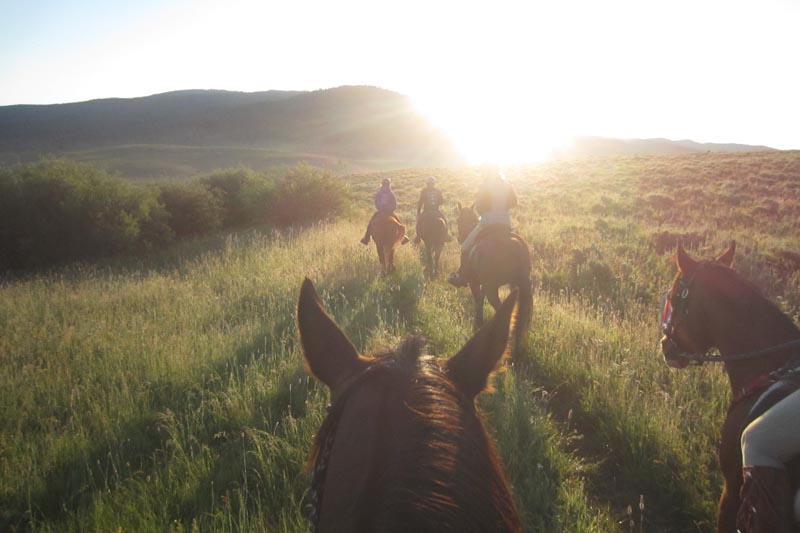 The first day's ride dawned misty and cool and beautiful. I set out with Connie and Sarah, glad to have company on this new 'wilderness' trail, one never knows how it is going to be out there! Our first 25 mile loop was a bit daunting, spectacular views, but the rocky trail was slow and we were a little cranky by the time we got back to camp. (They're not going to use this particular trail next year). Second 25 mile loop was along forest single track trails, and some aspen groves, and a fun technical trail along a creek and meadow. Big beautiful views and looming thunderstorm clouds solicited an afternoon of oohs and aahs.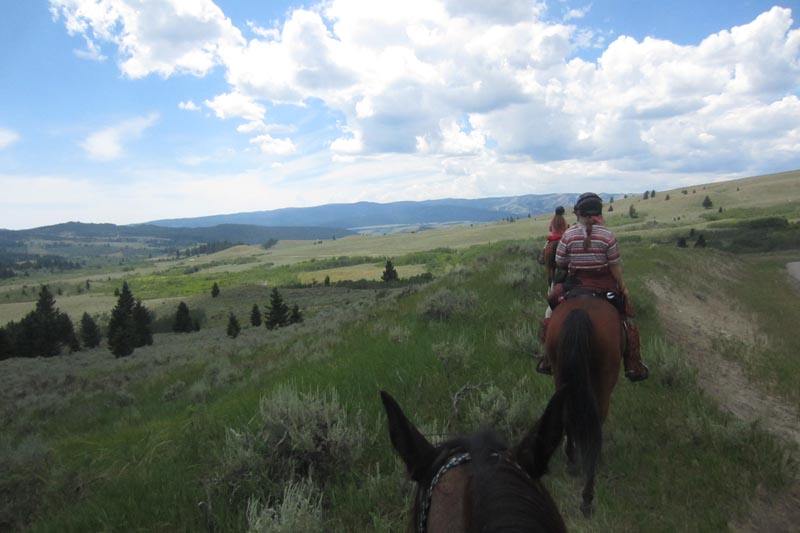 My mare Smokey, and Connie and Sarah's horses DWA Saruq, and 'Desi', finished the first day in great shape so we were on for day 2. Beautiful trail!! The most scenic trail I've ridden in a long time, great footing, spectacular views, forest and meadow... glorious. We rode for several miles along the continental divide between Idaho and Montana - and even did a little loop into the neighboring state. It was a very enjoyable morning, we still rode slowly but this time it was because we couldn't quit gawking and taking photos. The second loop was the same 'easy' loop that we did on day 1, still pleasant, still scenic, still fascinating watching the storm clouds build up.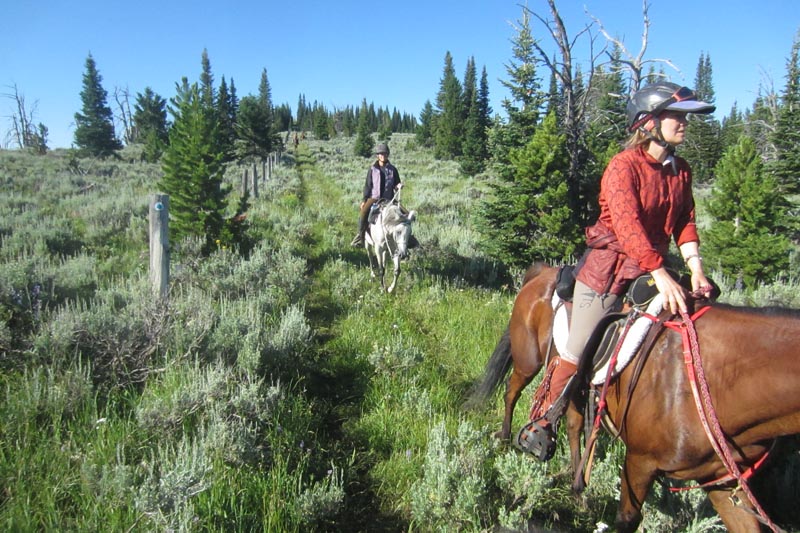 So far, so good, so we set off again on Day 3. I rode with Carol and her horse August all day, it was fun, like old times. (we have ridden many thousands of miles together over the last 25+ years). Another beautiful trail, most forest roads and single track, pleasant and not too demanding. Second loop was the same as previous days, but it didn't feel tedious. The horses knew the trail, we knew the trail, and we just zoomed along. Smokey felt awesome, strong and forward and happy, and she actually won the 'Get-Away Horse' award - the veterinarian's choice of the 3-day horse in best form to make a fast escape if needed! Another wonderful day riding. Great weekend - cool mountain nights, yummy dinners from Spencer's smoker. Good friends, awesome ride!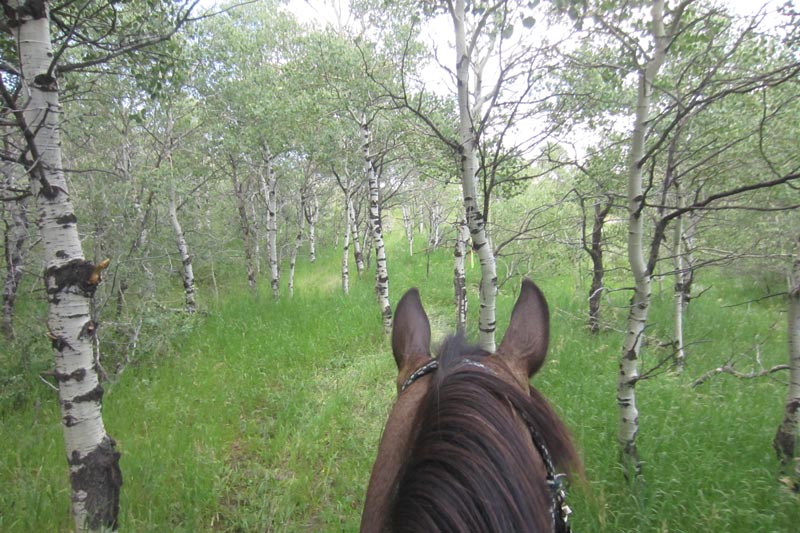 Steph (and Smokey!)