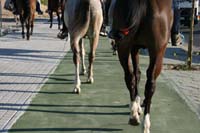 Yesterday the trail left from a horse club outside of Seville, and wound through the countryside through farms and pastures and forests. Everything is so green! They had record rains this winter, and the grasses and flowers are waist high in places - very verdant. We went through orange groves, with the sweet smell of orange blossoms. Through olive groves, along wheat fields, some already beginning to turn golden. Rolling countryside, very pretty.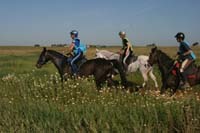 We stopped for the vetcheck at a newly 'old' restaurant and outdoor park. Tile mosaic floors, urns, sculptures, very artsy and interesting. Constructed with huge pine beams, old logs recovered from some place- it was a lovely place. The second half of the ride traversed a little more farmland, and then entered the Dona xxx preserve - a mature forest, with a 15 km sandy road leading to El Rocio. The Real Royal - the Royal Line - and halfway down the road we went around a huge hacienda - currently owned by a family, previously the vacation home of the King. Huge old palm trees, gorgeous place.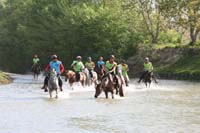 The trail - the real - is a long sandy stretch of road. It used to be open to the public but recently it was turned into a natural preserve. Open to hikers and horses, and closed to motorized vehicles (except for special permits). The organizers have more ATV's (Rhino's) now so we journalists and photographers and hangers-on can actually follow the horses on the track. It was great not being stuck in a car. Plenty of places to stop and photograph the riders. A little chilly in the morning, but nice to be out on the trail.
So far, so good with the horses and organization. Two horses were eliminated at the finish yesterday, but minor issues and they may be able to start again in few days. Paco is still going with Arenal, but she's narrow based and moves closely and is interfering. They have interference boots - hopefully this can be managed. I had the same problem with her when I rode her two years ago. Both Paco and Fernando (Arenal's owner) have expressed interest in learning how to go 'barefoot' with their horses. It might help this mare to pull the steel shoes and keep her feet balanced, and not have the extra weight of the shoe. I brought a glove to show them, but there is nobody else in Spain doing endurance 'barefoot' - and it will be hard for them to pick it up on their own. The trimming alone is somewhat different, and it would be nice if they had a mentor.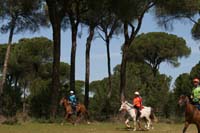 So - today the trail is being changed. Instead of riding to Sanlucar de Barrameda today, and then to Jerez tomorrow, the riders will repeat the last half of yesterday's trail. They'll ride out to the restaurant for the vetcheck, and back the same way along the Real Royal, and tonight we'll stay again in El Rocio. The trail from Sanlucar to Jerez is too washed out still, so that day is being canceled.
The ride meeting was pretty funny yesterday - between Soto (Jose Manuel - everybody just calls him Soto) going back and forth between Spanish and English, and Christian (Belgian/Spanish photographer) translating to French and German, and everybody pretty relaxed after the beer (and Kaliber) at the finish line, and a nice meal with more wine or beer ... it was a pretty mellow and entertaining meeting.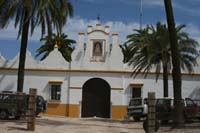 Off to breakfast now - I'll hook up with Ines and Rachael - figure out where and with whom I'm going today. more photos, more mini-adventures. The worst that can happen is we'll get stuck in one of the many water crossings on the real - from overflowing rivers and creeks, and all the winter's rain still trying to find it's way into the ground or to the sea.
Alexis just walked by (the lab has gone) and is headed out to fix the trail - apparently some of the markers were removed yesterday after the riders come through. It's a lot of work!
more later-
Steph