This is what Endurance riding is meant to be. I have so had it with FEI and flat races and loop courses... for me that is not Endurance, that's a long version of a track race. Everybody that loves this sport should take a look at what Soto and his team have done.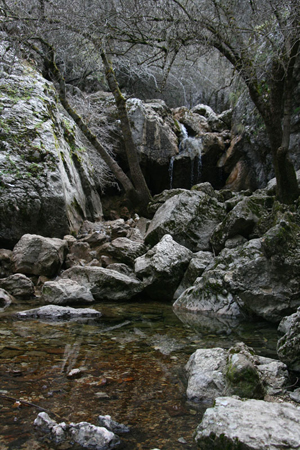 Five hundred kilometers of trail in eight days of riding. From Sevilla the heart of Andalucia, to the Atlantic Ocean where the Rio Guadalquiver finds its destination - where the city of Sanlucar de Barrameda was built to guard this important port. Through farmlands with olive trees, cottonwood forests, herds of sheep and goats that roam the rocky hills which are too steep for anything else ... to Grenada where the Moors built one of their last cities of retreat as they fled this land - to Cazorla - to the source, the nacimiento of the Guadalquivir - a tiny pool of water that gathers strength as it falls out of the mountains, the river that is the life blood of Andalucia.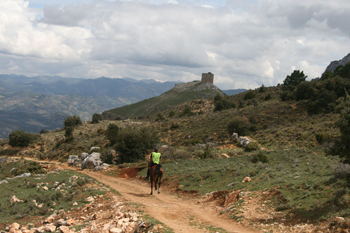 This is Endurance - this is magnificent. The course is not easy. There are sandy stretches along the Atlantic coast, trails through marshland, through Donana National Park - the most important National Park in Europe both in size and in diversity of flora and fauna. Through farmland and villages, over mountain passes with steep rocky trails and long climbs. Long days, and easy days - and combined over eight days together it is true challenge for horse and rider.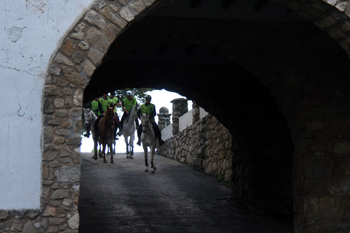 And it is also a ride through history - centuries of civilization still stand as forts and castles and Roman era bridges, Arab palaces, Castilian cathedrals, stone and mud walls and houses crumbling with age or maintained through the generations. People of mixed ancestry, people that enjoy life like none other. Spanish time... different from the rest of the world. The laughter and chatter and good food, wine. I'm sure what we're experiencing through this even is a little beyond the 'real world' - but that is part of what makes it such an amazing and consuming experience. Day after day the focus is the motion - horses crossing the land, support rigs making it possible, organizers making it happen. From late nights of meetings and dining and taking care of the horse - to early morning starts at some new unlikely location. The same horses, the same people, different land.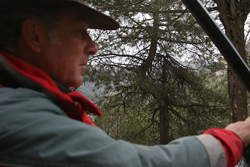 Jose Manuel Soto and his team have created a true Endurance Ride.
I'll write more later - soon we're packing up to drive back to Seville. I fly home tomorrow (assuming the airports are open). It's going to be difficult to transition back to the real world!
Steph