First ride of the Northwest endurance season today - based out of our ranch (The Teeter Ranch) in Oreana. This was the 10th running of the Owyhee Tough Sucker ride. The trails aren't really all that tough - some sand, some rock, some climbs, but the weather... can be anything! We've had wind, rain, snow, hail, hurricanes, tornados, tsunamis, volcanoes, earthquakes... it can be Tough out there! Our Tough Sucker Mascot has been Yosemite Sam, he's pretty tough, right? Ride awards are usually coffee mugs with the mascot and a few other silly things printed on it.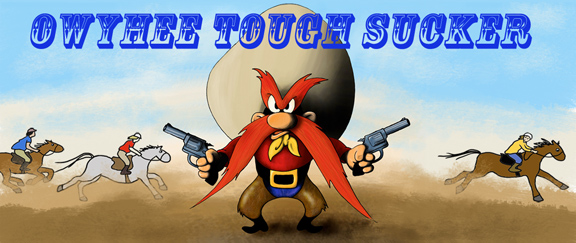 Well this year we decided to have a little fun. We're just a small ride, but we have big ambitions. The really big rides in the Middle East, where Sheiks and Royals compete, have grand prizes - typically shiny new 4WD vehicles - Toyota or maybe even Mercedes rigs. So what the heck. We advertised 4WD trucks for the winners of the Tenth Annual Tough Sucker ride. We even let folks pick their preference when they registered online - Toyota, Jeep, or Mercedes. Well the competition was fierce
*
and the day was long. But oh what a day - it was the first really lovely spring day of the year. High of 75 degrees, light breeze to keep everybody comfortable, lots of green grass on the trail, wildflowers, blue sky... it really was a beautiful day, smiles all around. Of course the trail was tough enough, especially for horses and riders on the first competition of the season. We threw in some good climbs and sand washes and tried to keep up our reputation. But it was a happy day.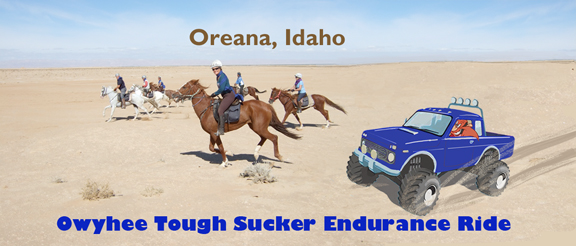 We let Sam have a little fun (at least on the completion mugs). And the winners were excited about their 4WD truck awards. There was even some back room dealing on who would get the best models, and what to do with the vehicles if the recipient had to go home before the awards ceremony. We lined up all the trucks for a photo before they went home with their new owners.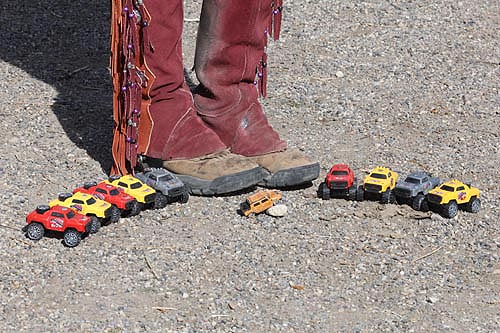 It really was a fun day. I had a fantastic 50 mile ride on Smokey, she felt good all day and just ate up the miles. She's a good one, we just have to keep our relationship firmly defined. (I'm the boss). A good day for Tough Suckers. Steph
---
*
not really...
Follow on Endurance.net