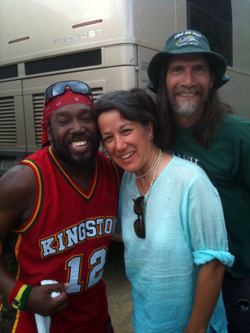 Yesterday evening John and I found ourselves in Eagle, Idaho - about 10 crow-flying miles from the Eagle Extreme ridecamp. No horses, though there were a few chemical port-potties which made it feel a little like an Endurance ride. It was definitely an Eagle Extreme event though!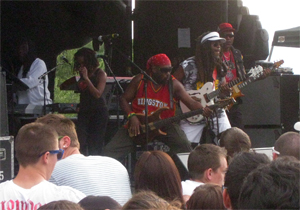 Many years ago John and I and a few friends had a little string band - Irish, folk, bluegrass - fiddle, guitar, hammered dulcimer, banjo, mandolin, penny whistle... you name it we played it! The main fiddle player was Mark Johnson. Last year we got a call, and a visit, from Mark's younger brother Andy (also a fiddle player). Andy is married to Pati - a Brazilian who among other amazing things used to be a Reggae band promoter (she worked with Bob Marley's band for years). Andy and Pati have been on an extended road trip, touring the country, staying with friends, picking up work when they can (Andy is a skilled tree worker).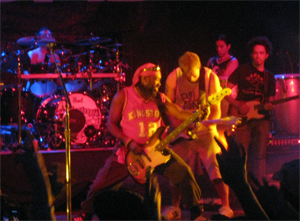 ...so... One of Pati's very close reggae musician friends, Amlak (British) plays with the band 'Steel Pulse' - a grammy award winning band which started in the late 70's - and is still playing. They are currently on tour with a 'fusion reggae' band out of California - Slightly Stoopid. So - the incredible chance circumstances of Andy and Pati's road tour putting them in Oreana at this point in time - and - it just so happened that Slightly Stoopid and Steel Pulse would be here - in Idaho! playing at the outdoor pavilion in Eagle. Too good to be true, and Pati arranged to meet Amlak there and got the four of us free passes.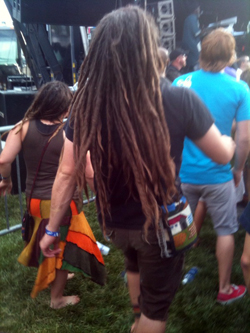 The only other reggae concert I have been to was ages ago in Boston, and it was fantastic. This one was too! Both bands were amazing, the audience and fans were totally enthusiastic - it was a blast! Steel Pulse played first, and after they finished we all went to hang out behind the stage and meet band members and watch the production workers, technicians, groupies, all that stuff! Such a different world - very cool people.
And we watched the sun go down as the band wrapped up it's show - with the Eagle Foothills in the background, where we could almost see Eagle Extreme basecamp, just a few 'as the crow flies' miles from the reggae rockin' band and the smoke hazed gyrating group of dancers! extreme-
I just gave two of the horses we're taking this weekend a haircut - maybe I'll roll the other two's manes into dreadlocks :)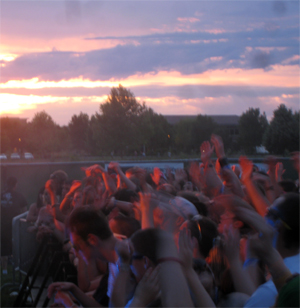 Steph